🖊 This article was last updated on November 27, 2019
Every entrepreneur wants to be more productive without burning out.
The good news is, there are a lot of great apps you can use to organize your ideas, coordinate with your team, and help you integrate your business schedule with your personal life.
Below are 13 of the best time management tools I use on a daily basis to help me maximize my time.
1. Google Calendar for calendar management
What I love about Google calendar is it's very convenient. You can:
View your calendar across devices
Set recurring reminders
Create schedules for Goals, Reminders, or Events. You can even add details like the time zone and attachments, and send invitations to your client or your team.
Set recurring (daily, weekly, monthly, yearly) commitments
Ask Google calendar to send you notifications minutes, hours, or even days ahead of time, so you can prepare before any activity you've set.
2. Evernote for taking & organizing notes
If you've struggled to keep your to-do lists or project ideas in one place, Evernote's got you covered.
This cloud-based app is your business notebook, journal, and daily planner rolled into one. As a business owner, I've used Evernote for:
Drafting meeting notes
Project budgets
Marketing plans
Hiring notes
Book summaries
Course notes
Brainstorming
Client meetings
Preparing phone calls & conversations
Swipe files
Text snippets I regularly (re)use
Research notes
…
Evernote even has templates you can use or personalize to track your habits and goals, or to maintain a gratitude journal.
Aside from written notes, the app's drag-and-drop feature lets you easily attach files, images, and voice recordings. It also has a web clipper browsing extension that lets you easily save web pages, articles, and screenshots.
Evernote syncs across devices, so you can access your notes anytime, anywhere.
3. Habitica for habit-building
Habitica is a task management tool that turns habit formation into a fun role-playing game (RPG).
In Habitica, you can create a list of Habits you want to either develop or change (such as eating healthy food or junk food). Then there are Dailies which are things you do want to do regularly, like exercising or taking deep breaths, and To-Do's, which are your one-time goals. Your character earns gold and experience each time you do a positive habit or tick off tasks, and it loses health when you do a negative habit.
As in RPGs, your character can level up, and you can use your gold to buy armors, shield, and other items.
TIP: To make this even more fun, try customizing the rewards to include things you like–maybe a weekend trip or dining at your favorite restaurant. Put an equivalent cost (gold coins) on it, and give yourself that reward once your character earns enough gold.

4. ClickUp for project management
ClickUp may be a newcomer in the project management scene, but it's doing a great job of giving businesses the flexibility they need to keep teams organized.
ClickUp has developed a more solid project management hierarchy (Workplaces > Spaces > Folders > Lists > Tasks > Subtasks > Checklists) which other apps don't have. It even lets you assign tasks in your comments, so nothing falls through the cracks.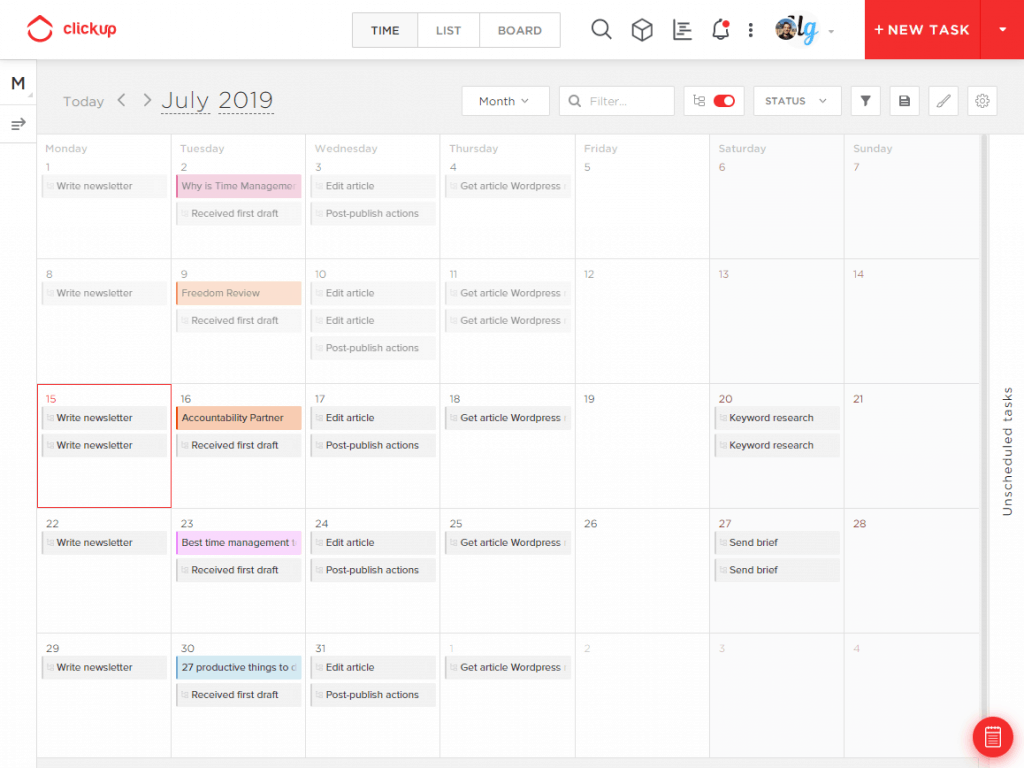 There's a lot you can do even with ClickUp's free plan–you can have unlimited users, projects, and tasks, which is perfect for a growing team. Task schedules sync with your Google calendar. You can even integrate Evernote with ClickUp, and turn your notes into tasks.
5. Brain.fm for better focus
There are millions of music tracks you can listen to, but not many can help boost your productivity. This is where Brain.fm comes in.
Brain.fm develops functional music that improves your focus and work performance. It even has tracks to help you sleep, meditate, or relax. It's very user-friendly and is a perfect app to combine with other time management tools, like the Pomodoro Tracker.
For more tips on using Brain.fm, you can check out my article Brain.fm: Three Mental Modes in One App.

The Pomodoro Tracker is pretty straightforward. You can simply click start when you begin working, and the tracker alerts you when the 25-minute block is done.
There's no need to download the tool. Even without logging in, you can customize your project name and the length of time you want for your Pomodoros, short breaks, and long breaks.
7. Wunderlist for grocery shopping
Wunderlist is very handy when I need to make a grocery list.
But that's not the only thing this great app can do. You can use it to make to-do lists with due dates, and share it with collaborators/assignees to keep everyone on the same page. It syncs across mobile and desktop devices too, making it convenient both for making personal and work-based lists.
The brains behind Wunderlist have created a newer app, To-Do, which is also available for Apple, Windows, and Android users. For now, I'm sticking with Wunderlist though.
8. Google Drive for organizing and sharing files with my team
With Google Drive, you can organize and share your files in a breeze. You can simply drag and drop files to store them in your account, or put them in folders. To share files, simply copy and paste the link, or send team members an invite to view or edit these.
Within Google Drive, you can create documents, excel files, presentations, forms, and more. It automatically saves your work too and syncs across devices, giving you access to your documents anywhere.
TIP: If you feel you're more productive working offline, you can set up and use Google Drive's offline Chrome extension.
9. Insight Timer for mindfulness meditation
Insight Timer is a free meditation app with a really extensive library of more than 20,000 guided meditations.
With Insight Timer, I can choose tracks, bookmark them, and use the timer that's built into the app. For a minimal fee, I can even download tracks, enroll in meditation courses, receive a new meditation daily, and even chat with teachers and the community.
Book Like a Boss lets users schedule meetings in style.
Apart from the usual booking page options that show your profile photo, introduction, and your calendar, you can include a Products & Services section, an introductory video, photo gallery, FAQ, and a sidebar where you can put your professional or business details. You can take advantage of all these features to create a better impression for you and your brand.

11. FreeeUp to surround me with an amazing team
Whether you're a small start-up or a solopreneur, you're going to need an extra pair of hands to handle your growing business.
Delegating tasks can be scary and overwhelming, more so finding the right people to join your team.
Instead of sifting through a lot of applications, I use FreeeUp to streamline my hiring and billing processes. FreeeUp does the selection for me, and I choose from among their pre-vetted freelancers. FreeeUp even allows you to communicate directly with freelancers, and maintains a no turnover guarantee. For more tips on using FreeeUp, you can check out my review here.
Get a $25 discount on your next outsourcing project!
FreeeUp offers Habitgrowth visitors an exclusive $25 credit for their first freelance project(s).
Save time, money, and become a raving fan in the process. Just like me!
Claim the $25 credit now
12. MissingLettr to schedule social media posts
MissingLettr makes repurposing content so much easier. Once you publish a blog post, MissingLettr puts together a 12-month social media campaign for you. It pulls up quotes, images, and suggests hashtags. Once you approve these, MissingLettr executes the social media campaigns on your Facebook, Twitter, and LinkedIn accounts.
13. SocialBee to schedule social media posts
SocialBee helps users plan more diverse and engaging social media posts by letting you put posts into categories, and setting schedules per category.
You can create categories for videos, quotes, and images, for promoting blog posts or products, or advertising an upcoming event. Once you set a category into Evergreen, SocialBee will keep recycling those posts, which is very helpful if you're promoting a popular blog post or an offer. You get to decide how many times you want the posts to appear, or until when you want them to be reused.
Your turn!
What are the best time management tools you've used? If you decide to try any of the apps above, drop a comment below. I'd love to hear what you think.