🖊 This article was last updated on October 3, 2019
Curating the right plan is crucial to the success of any business owner. However, it's particularly important if you're a solopreneur. Without anyone else to hold you accountable, you need to ensure you're prepared to reach your goals more efficiently.
That becomes easier when you adopt a Management by Objectives (MBO) approach. Developed by Peter Drucker, MBO is a management strategy in which employees and management agree to pursue certain defined objectives for their organizations.
Obviously, you'll need to slightly modify Management by Objectives as a solopreneur. Without a workforce, you serve as both manager and employee. That doesn't mean you can't put this approach to good use, though. The following steps will help you do so effectively.
Step 1: Define Objectives
Your business plan needs to include specific objectives. Vague goals such as "find more lucrative clients" won't allow you to take full advantage of MBO. Clarity is important. A more powerful goal might be "boost average quarterly revenue by 50% within one year" or "sign five clients within one year".
Objectives need to strike a delicate balance. You want them to be ambitious, but yet realistic enough that you can actually achieve them. This may take some trial and error. Don't be afraid to adjust your objectives in the future as you learn from experience.
That said, it's important that you do what you can to reach them once they are established. Knowing you can modify your objectives if necessary shouldn't stop you from working hard to reach your initial goals.
Step 2: Define Tasks
Having specific objectives makes it easier to break them down into tasks, or key results you can complete in order to fulfill your objectives.
To return to the examples described earlier, perhaps one of your objectives is to boost quarterly revenue by 50% this year. You might break this down into the following tasks:
Identify current average quarterly revenue
Determine how much more you need to earn to reach your goal
Identify lucrative clients/opportunities with high enough billings for you to reach your objective
Develop and submit presentations to said clients (making sure they are as strong and persuasive as possible)
Accept high-paying projects and complete them according to client expectations
It's important to allocate time for these tasks. Knowing what you need to do to reach a goal is just one step. You also need to understand how long it will take to complete all the steps in the process.
This basic checklist illustrates the value of clear objectives. Again, simply trying to find lucrative clients is too vague a goal. When you are more specific, you can more effectively determine what exact steps you must take to grow your business.
Keep in mind that MBO typically involves assigning these various tasks to different employees throughout an organization. For instance, if you had a staff, you might ask the accounting department to handle identifying quarterly revenue and determining how much you need to earn to reach your goal, while assigning the work of completing high-paying projects to other departments.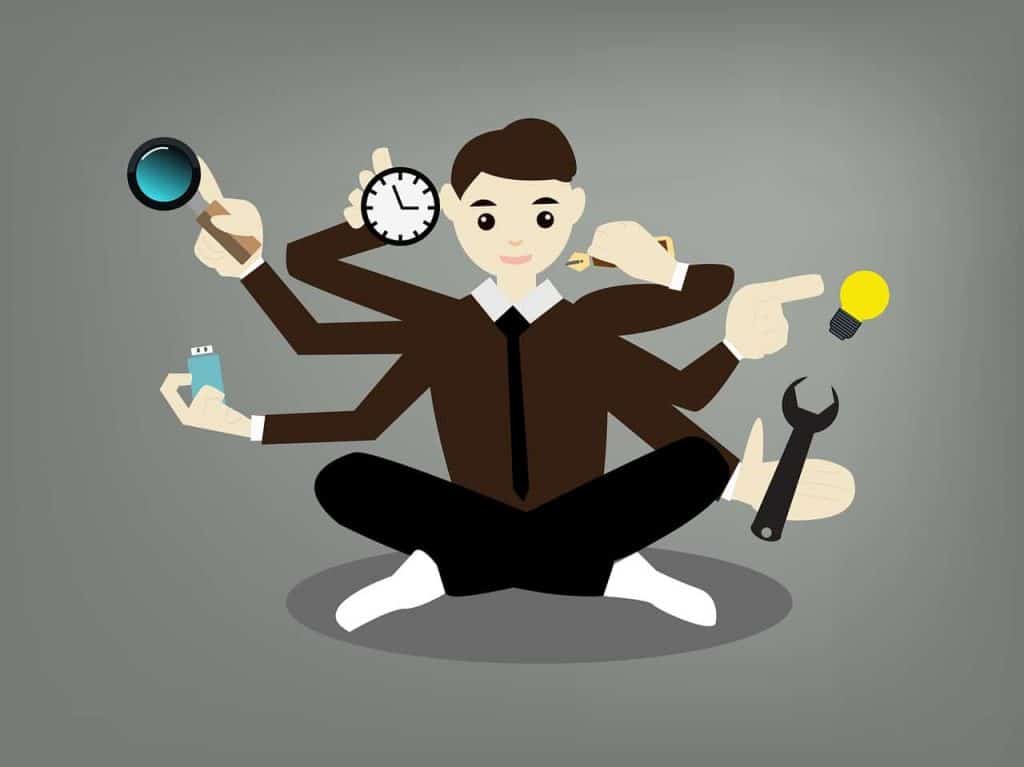 That's not an option when you're a solopreneur. Thus, you need to honestly assess your own work style in order to better understand how to stay focused.
For instance, some people find they are more creative and productive in the morning, becoming less stimulated as the day progresses. Maybe you're one of them. If so, you might focus on tasks that require creativity (such as developing client presentations) early in the morning, while focusing on less-creative tasks (such as evaluating revenue) in the afternoon. The goal is to find what works best for your style.
Step 3: Monitor & Improve
Once you've established your list of tasks, be prepared to consistently and honestly monitor your performance. A smart way to do this is to adjust key performance indicators typically used to evaluate employees, modifying them to fit your circumstances as a solopreneur.
For example, organizations often use the Revenue per Employee KPI to assess the performance of a workforce. Again, because you're the only "employee" of your business, this particular KPI needs to be modified accordingly.
Perhaps you can begin calculating how much revenue you bring in every week. Compare this to how much revenue you need to earn to reach your 50% goal. You might discover you aren't on track, or even ahead of schedule.
That doesn't mean you need to change your objectives. Instead, honestly assess what you believe is preventing yourself from reaching a particular objective.
The goal is to consistently and regularly review your own performance as if you were a manager. When you have clear objectives, this can be advantageous and efficient as a process. You can determine if your current performance is enough to help you reach them. By adopting and maintaining this approach, you'll be much more likely to succeed and even boost yourself to higher heights.